Get inspired
Born in 1993 in Onex, Switzerland, Alan Roura became at 23 the youngest sailor to complete the Vendée Globe, a solo round-the-world race, non-stop and without assistance. Aboard one of the oldest boats in the fleet and with one of the smallest budgets, he finished in a magnificent twelfth place, ahead of some machines much newer than his. In the 2020 edition of the "VG", Alan finished 17th after a circumnavigation marked by numerous technical damages. Willing to take his revenge, Alan announces it clearly: he wants to win the next Vendée Globe. And preparations for the 2024 edition have already started.
Would you like to go aboard with Alan during his next offshore trips and support this exceptional young sailor with extraordinary sympathy capital?
Alan about Mana Consulting: «I thank Wiktor for believing so much in my projects and for succeeding in spreading their essence and values, with the same passion that I would show myself. It is a pleasure to meet and collaborate with this kind of enthusiast!»
Climate change is pushing humanity to find solutions to continue living on our planet in a sustainable and environmentally friendly way. In terms of energy transition, SolarStratos, whose mission is to fly with a solar plane to the edge of space, wishes to bring this hope for a better world by demonstrating the potential of solar energy.
Collaborating with SolarStratos would allow you to crystallize the values of innovation, perseverance and performance. You will not only be able to communicate your support for a history-making eco-exploration, but also make your community dream and gather your teams around a unique project. Are you ready to get aboard this solar bird?
Raphaël Domjan, founder and pilot of SolarStratos: «Since 2011, during my world tour with PlanetSolar, I have the chance to collaborate with Wiktor. I appreciate his commitment and the energy he instills in the search for our new partners for our various projects.»
After winning the boys' singles final at Roland Garros for juniors in 2020, Dominic received a Wild Card in 2021 at the Gonet Geneva Open. On his first appearance on the ATP Tour, he achieved the feat of beating Marin Cilic (winner of the 2014 US Open) and Marton Fucsovics (winner of the 2018 Geneva Open). He also managed to reach the quarter-finals at the ATP 250 tournament in Stuttgart in June 2021 and won the Swiss Open Gstaad doubles final in July, his first ATP title. These results allowed him to enter the top 300 in the ATP rankings.
Born in 2002, Dominic is at the very start of his career and one can predict a bright future for him. Is he the successor of Federer and Wawrinka? What if you bet on him by helping him participate in as many ATP Tour tournaments as possible while communicating your values through your support for Swiss sports youth?
Mathias Walter, Dominic's manager: «I like Wiktor's commitment and passion in finding sponsors for Dominic Stricker as well as his marketing know-how. Dominic, his family and I appreciate our collaboration with Wiktor, moreover because he knows the French-speaking Swiss market well.»
Guillaume Jacquet
Aerobatic pilot
«Make your life a dream, and a dream a reality», said Antoine de St-Exupéry. Guillaume Jacquet has made it his credo, he who has dreamed of aviation all his life. So, thanks to his talent and perseverance, he became an aerobatic pilot at the age of 27. Young in his forties and father of two children, Guillaume is a flight instructor and acrobatic competitor since 2009.
Member of the national aerobatics team and with 12 medals won on the Swiss circuit, Guillaume now wishes to climb to the highest level and participate in as many competitions as possible, both in Europe and the United States or elsewhere in the world. How about taking some altitude and make your heads spinning around (and those of your clients and employees) by supporting Guillaume Jacquet?
Guillaume about Mana: «During a competition you have to give the best you can and being focused at 200% on your goal and objectives... being well surrounded and to rely on the right people is a key point to accomplish the best performances. This is exactly how I feel when collaborating with Wiktor. He knows the business and shows a great motivation which gives me the freedom I need to accomplish my goal. Definitely, a great professional!»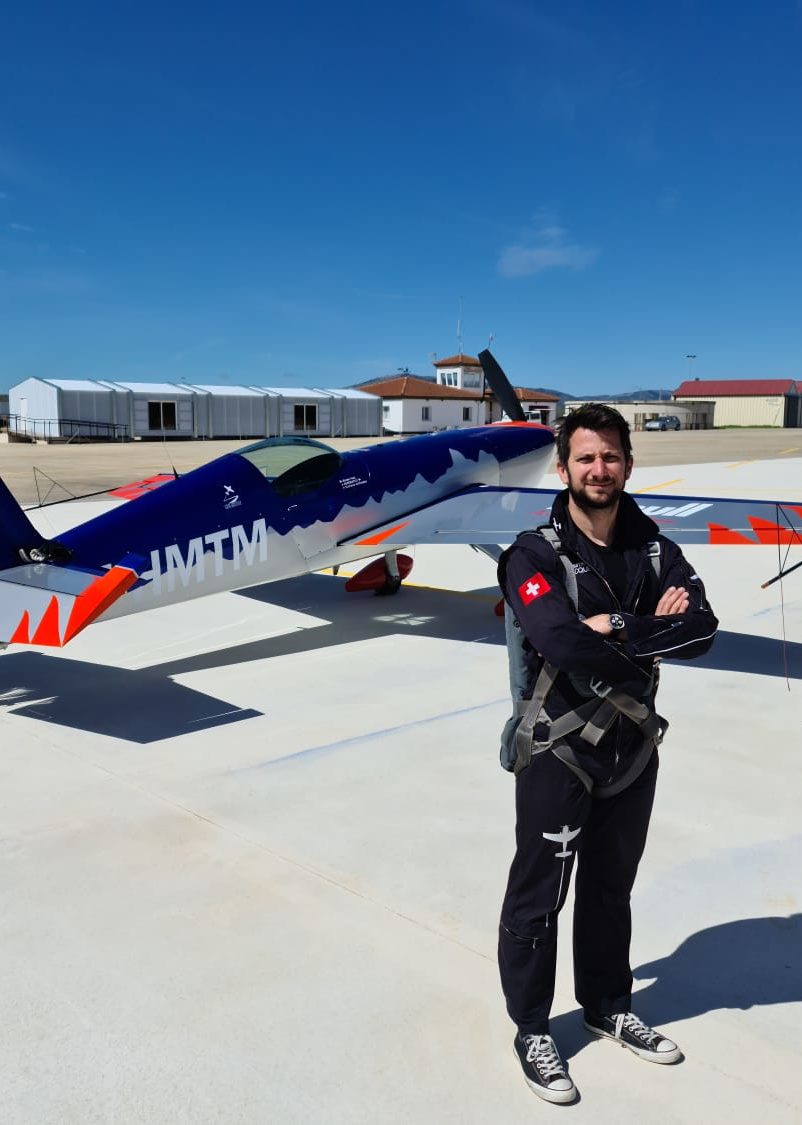 copyright Guillaume Jacquet
Te mana o te moana
Association active in the protection of the marine environment in Polynesia
Founded in 2004, the association Te mana o te moana (which means "the spirit of the sea" in Tahitian) works for the protection of the Polynesian marine world and in particular sea turtles through its actions of discovery, education and protection. Thanks to its long experience, the association aims to develop internationally, through its actions for the conservation of marine turtles but also at the educational level, by creating educational marine areas and educational materials on the protection of the oceans.
The future is shaped with children. Te mana o te moana knows it well. By supporting this NGO, member of the IUCN (International Union for Conservation of Nature), you are not only providing concrete logistical support in French Polynesia, but also everywhere else in the world where projects are led to evolve through actions carried out for the protection of marine turtles but also in schools, on the seaside or by the lakes and rivers. And you? Do you also have "the spirit of the sea"?
Cécile Gaspar, Founder and Director of Te mana o te moana: «I love Wiktor's philosophy which is in perfect harmony with mine! The idea is to connect people, ideas, projects, partners in order to accelerate change and, together, participate in a better protection and much needed restoration of our beautiful planet. Alone, we go faster, but together we go further! For me, that's the motto of Mana Consulting!!! and the Earth needs this synergy of urgent actions!! Thank you, Wiktor, for showing this desire to act!»
PlanetSolar Foundation
Swiss foundation committed to the fight against climate change and the protection of the environment
The PlanetSolar Foundation was created in 2007 by the Swiss eco-explorer Raphaël Domjan. PlanetSolar is actually the name of the project that led to the First World Tour With Solar Energy. Between September 2010 and May 2012, the world's largest solar boat carried out the first solar circumnavigation in History while promoting solar energy. After several scientific missions in the Atlantic Ocean and the Mediterranean Sea between 2012 and 2014, the boat was donated to the Race for Water Foundation. The boat now sails around the world to collect and analyze plastic waste in order to fight against ocean pollution.
Today, the Foundation, based in Yverdon-les-Bains (Switzerland), supports various projects in the fields of solar energy and energy efficiency. Raphaël Domjan accompanies a team, which works on various projects based on the three fields of action of the Foundation which are eco-exploration, humanitarian aid and the memory of solar adventures.
Motorsport disseminates a very masculine image: speed, roaring engines, garage smells, tire screeching… In this particularly virile world, however, a pearl is evolving. A go-getter with a pink helmet. A champion whose goal is to compete in Formula 1. For several years she has been climbing the ranks of the different types of Formulas. She is a Swiss in her early twenties. Her name is Léna Bühler. It is part of the French «R-ace GP» team, one of the leading teams in the Formula Regional European Championship category.
To improve her athletic, physical and mental skills, she is looking for sponsors to fund her seasons. The needs are numerous: travel, accommodation, technical staff, sets of tires, test and racing days… What if you help Léna, the only Swiss female representative in her category, to break into motorsport and to go even further? ? An exceptional opportunity to share your values ​​of surpassing oneself, perseverance, high technicality, precision, team spirit... and make your customers and staff dream and vibrate with emotion!
Gérard Scheidegger, Léna Bühler's Manager: «In achieving her sporting ambitions, Léna has many advantages, both in terms of her talent and her personality. I am delighted that Wiktor is supporting Global Sport Management in the search for partners and sponsors.»